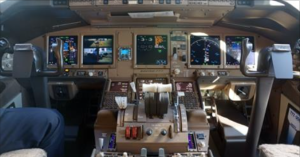 Airways News posted my Op-Ed article "Inside the Head of Those Inside the Cockpit" today. It's my reflection on the Germanwings tragedy
http://airwaysnews.com/blog/2015/03/31/op-ed-inside-the-head-of-those-inside-the-cockpit/
Please make all comments on the Airways News page. Thanks.
Here are the first four paragraphs as a preview:
I've never been found unfit to fly before. I was attempting to work an international trip only weeks after my airline's biggest tragedy—TWA Flight 800—that had claimed the life of my fiancée Susanne. She was one of 230 passengers and crew onboard a Boeing 747 in 1996 when it exploded in flight. So, instead of flying to Milan as planned, I was introduced to an entire, seemingly clandestine, department that was operating within my airline—Special Health Services—when the captain of my scheduled flight suddenly threw me off our trip.
As the anger inside me welled, during my long trek from the cockpit of my flight that would depart without me, to the office of my boss—The New York Chief Pilot—I began a personal mental health odyssey through both corporate and federal oversight that required me to deal with my extreme grief and survivor's guilt, but that eventually allowed me to return to my airline career.
Looking back, I realize now that I would not have sought my airline's assistance voluntarily. Like many pilots, I felt that mental health counseling carried a stigma of weakness. I am here to tell you that I was wrong, even though that stigma was very real, and it still needs to be further dismantled in order to encourage more pilots to seek help, or empower fellow co-workers to nudge each other in the direction of professional assistance.
Unfortunately, many pilots still struggle with deep personal issues alone, and perceive any intervention as a threat to our hard earned, yet fragile careers. It seems the Germanwings Flight 9525 first officer considered his flying career over when he tore up the medical leave notification he'd received. I don't believe he fully understood there were methods of treatment available that could potentially allow his career to continue, after whatever level of healing he required. If a pilot can cause the deliberate destruction of his aircraft and trusted passengers in response to the threat of losing his ability to fly, the Germanwings tragedy begs the question: what can be done when a pilot comes undone?
…