Are you hosting a book club?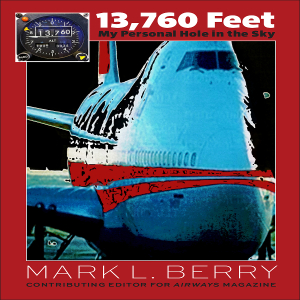 Here are some suggested questions for discussion after reading (or listening) to:
13,760 Feet–My Personal Hole in the Sky.
About the commercial aviation theme:
– How do you feel about peering behind curtain–the pressed uniforms and shiny aircraft–into an insider's view of the commercial aviation profession?
– Most passengers have little (if any) interaction with their pilots even before or after a flight; their communication with agents and flight attendants is superficial, and they never meet the people who work behind the scenes, such as chief pilots and special health service professionals. Is you opinion of airline pilots at all altered after reading 13,760 Feet?
– The author uses the analogy "Losing the Lottery" to describe the extremely low odds of ever being onboard such an airline disaster; are you as pragmatic about how rare this type of disaster is, or did the memoir make your own air travel a bit more ominous? Would you recommend reading this book while traveling on a commercial aircraft? Should it be sold in airports?
About the cause of TWA Flight 800's demise:
– Do you personally feel there are any national security concerns that would justify the U.S. government covering up the true cause of this airline tragedy?
For example: if the Navy was testing experimental laser defense weapons, missile-intercepting missiles, integrated multi-ship radar software, or other cutting edge military equipment, and the U.S. government had previously signed international treaties declaring it wouldn't develop these items (or wanted to keep their development secret as a method of competitive advantage), would this justify publicly falsifying the resulting investigation?
– Now that you have traveled onboard TWA Flight 800 (at least in a literary sense), how do you feel about the continued controversy about its cause? Do you plan to learn more about it (i.e. watch the 92-minute EPIX documentary "TWA Flight 800" or pursue other media sources)? Did this memoir successfully make you more emotionally invested in learning what really happened?
About the psychology of the story:
– Aside from the author's personal psychological journey through grief, did you find any psychological elements of commercial aviation in 13,760 Feet particularly interesting? (i.e. The raft commander assigned operating the task-intensive bellows pump to the most disruptive passenger on his life raft in order to maintain discipline. Or conversely, the Boeing 707 Captain's controversial order to his co-pilot to lower the landing gear over the middle of the Atlantic Ocean in order to enforce subordination on his purser.)
– How do you feel about the Zen-master psychiatrist's methods for determining the author's ability to return to work within this memoir? Did your opinion of him change as the story developed? Did you try counting backwards-by-sevens for yourself?
It's all in the details:
– 
If you are not a pilot, how much of the technical information was necessary for this story? Were the jargon and acronyms adequately explained? Was there too much detail, or did you want even more aviation lingo? The author tried to find a balance where non-pilots would stay interested, yet his peers and pilot buddies wouldn't get bored. The chapter about an engine failure on take-off out of Mexico City is a good example for reflection about the amount of technical detail. Did you feel like you were flying the aircraft though this crisis?
– A

irline disaster is obviously a dark topic. Did the author adequately balance the heavy subject matter with lighter moments and humor? Would you like to float around an aircraft cabin, or watch a flight attendant attempt to stomp free a sticking landing gear?
–

How did you feel about the alternating timeline (looking back, and looking forward, from the TWA 800 disaster on July 17th, 1996) leading up to the climactic moment when the flight exploded?
About the book/audiobook production:
– The print and Kindle versions (copyright 2013) of 13,760 Feet have 34 integrated companion songs. The audiobook (copyright 2015) has a total of 41. How do you feel about the author's integration of original lyrics (and song snippets) into the flow of the story?
– Did the companion songs help set a tone for each chapter, or were they distracting?
– When you read the lyrics, or heard the song snippets, were you ever inspired to listen to the entire song on the Author's Website? (Did you know that each chapter also has associated photos as well?)
_________________
Thanks for becoming a part of this discussion. Photos sent of readers with the book/audiobook are greatly appreciated, and posted here: Fan Photos