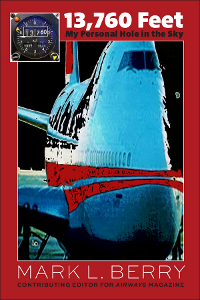 My friends and readers have been asking me what happened to MH370 since I am an airline pilot with more than 25 years of seniority; and I also write for Airways magazine and wrote a memoir 13,760 Feet—My Personal Hole in the Sky that addresses life through a major airline tragedy (TWA Flight 800 and the loss of my fiancée Susanne). Like most of the world, I have been following this situation, and I have refrained from adding to all the speculation—waiting and watching for facts to reveal the mystery—until now. The more details that become available, the better the possible picture comes into focus—and it scares me. So I share this guess with you all because we (the world) cannot get caught with our pants down again.
I wouldn't have thought that a widebody aircraft could fly up to seven hours undetected by radar or satellites, but now it appears that it has—at least as much as any government is admitting. There wasn't a system malfunction on the Boeing 777 that prevented communication, or we'd know that by now. I don't think there was a mid-air explosion or ditching or crash, or we'd know that by now too. Even the Malaysian government has finally admitted that this was a case of foul play—a hijacking.
Here is where my worst fear comes into play. What do the hijackers want? Traditionally they'd want asylum, ransom, and/or their comrades freed from prison. 9/11 caught the world with our pants down and a new breed of sacrificial hijackers killed 3000+ people with four aircraft in a single morning. That was when hijacking transformed into terrorism. But MH370 wasn't flown into a building or a city center, and it certainly could have been. They could have flown it along the original flight plan and then crashed it into Beijing. They could have turned around—everyone would have assumed it had an emergency and was returning—and then crashed it into Kuala Lumpur. The hijackers had free rein of the sky, and even subtle traces of them—revealed by ACARS data bursts—took days to figure out, so they could have crashed that 777 anywhere within about a seven hour range based on that day's fuel load. But they didn't. So WHERE they went is now slightly less important than WHY.
Hijackers, that we should absolutely assume are terrorists, now have control of a heavy, long-range, transport vehicle. It hasn't been found in pieces in the ocean or sprawled out across a rural field, so we need to assume that it is safely hidden on the ground somewhere. Even if the terrorists only loaded it up with classical explosives, the 777's cabin and cargo bays capacity could destroy an entire city. And that's just with traditional ordnance. No weapons of mass destruction were found in Iraq, but it would be naive to assume that none exist anywhere in the world. I am worried that the first terrorist-controlled weapon of mass destruction (maybe biological, maybe chemical, maybe nuclear) is now being married with the Boeing 777 in some remote airfield. While that aircraft is missing, we need to put our nation at high alert, or red alert, or DefCon-3, or however our government activates the highest military readiness, and alert the rest of the world to do their equivalent. And we need to ask ourselves what is our tolerance to shoot down MH370 upon discovery of it back in flight?
My heart aches for the families of those onboard. Worse than losing their loved ones is the painful hope they are living with now. There are prayers for miracles, as well as shock while trying to hold off the inevitable grief. These people need maximum support from their fellow family and friends right now. I really hope I am wrong, but it seems to me that a terrorist group willing to launch a weapon of mass destruction upon a nation (and WHICH nation should be a discussion of its own in order to best defend it) isn't going to save the passengers that were originally onboard the terrorists' new delivery vehicle. Here is what I think happened during the hijacked flight:
At least one 777-qualified pilot was onboard and aligned with the hijacking terrorists. Speculation points to the airline's co-pilot, but it could also have been one of the passengers who then compromised the cockpit. An hour or two into the flight the cockpit door could have been opened for meals or a bathroom break. I do not know what steps Malaysian airlines employees take to prevent a cockpit breach.
Once in control of the cockpit, the hijacking pilot, and probably at least one accomplice, could have donned oxygen masks and then 'dumped' the cabin. All the remaining passengers and crew would pass out from lack of cabin pressure. Then the accomplice—wearing a portable oxygen mask—could have strolled through the cabin clubbing the unconscious passengers one by one. Remember that terrorists are evil, and they have the stomach for things that we can barely imagine. If there was only the pilot acting alone, he could have put the plane on autopilot while he did this and then returned to the cockpit. If the aircraft remained high enough long enough, the passengers would asphyxiate without the need for bloody violence. As a pilot, I am appalled by these thoughts, but they are a very real possibility. Either way, after twenty or thirty minutes, only the hijacker(s) would have remained alive in this scenario.
If this is what happened to MH370, passengers and security personnel will likely make my work life even more difficult. Or perhaps passengers will begin choosing their airline based on the screening standards of its pilots. I don't know for sure, but changes will inevitably develop out of this event. Politicians can't help legislating retroactively.
The fact that the transponder was turned off, and eventually the ACARS stopped sending data blasts, indicates that at least one hijacker was trained in the 777's systems. He or they were not 9/11-esque terrorists who learned to fly without learning how to land, because they planned to fly the ill-gotten aircraft into a building instead of onto a runway. Let's assume there were at least two acting together. More than likely these terrorists pre-planned a route that would avoid radar detection, as they understood it. An airline pilot would know where he needed to make position reports on previous flights because radar coverage was not available. Similarly, non-airline-employee terrorists could obtain this information through research if they planned this hijacking well in advance, as they tend to do.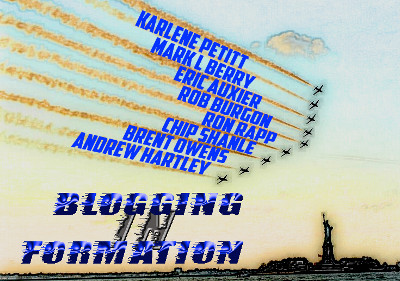 So where does this leave us? In a heap of danger, that's where. Until we actually KNOW what happened to MH370, we need to BE PREPARED for what can happen next. It seems that there is a lot of speculation and hindsight in the media, and not enough looking ahead. When that 777 re-appears on radar or a satellite display, there won't be much time to think about what to do. Either the world's military acts immediately, or terrorists have an opportunity to ratchet up their level of destruction to previously unimagined levels. This is not a time for wishful thinking; this is a time for preparation for immediate action. There as a Boeing 777 at large, and very possibly it is in flyable condition and in the hands of terrorists. Do we as a peace-loving people have the foresight and will to actively shoot down an airliner when it re-appears? It won't take to the sky again with innocent intentions. That is my worst fear, and I wrote this hypothesis with the hope of preventing it from becoming reality. Maybe I'm wrong, but if I am right, can we afford to wait and see? At the bare minimum, we should be on high alert until that aircraft is found—either intact, or in pieces as a result of a tragedy other than this hijacking scenario.
Here is my discussion of this blog on Boston Herald Radio 3/17/2014:
22 minutes long.