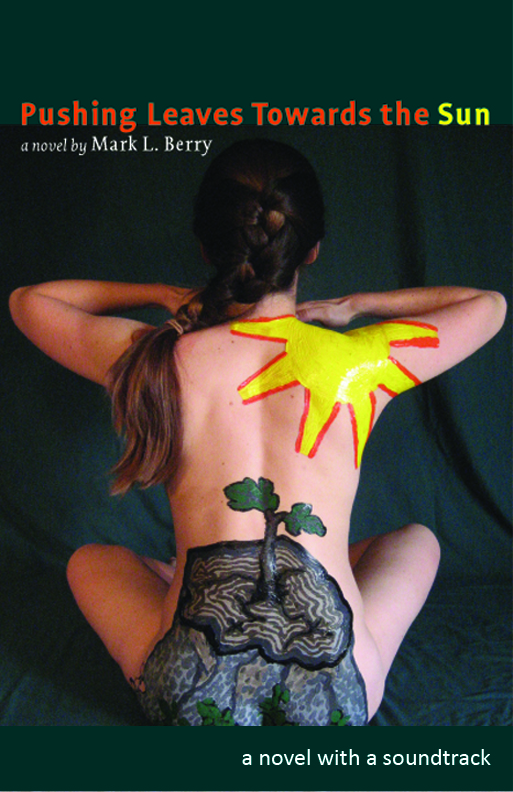 Pushing Leaves Towards the Sun
a survivor's guilt story
Billy and Lindy wrestle with Oso's untimely motorcycle death. Their path to emotional recovery traverses sex, self-medication, & rock 'n roll.
– The lyrics for 12 original companion songs are developed within the story.
– Welcome to my world of musical fiction.
Cheers, Mark L Berry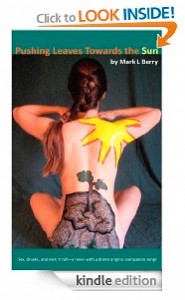 Order this novel as a Kindle e-book on Amazon.com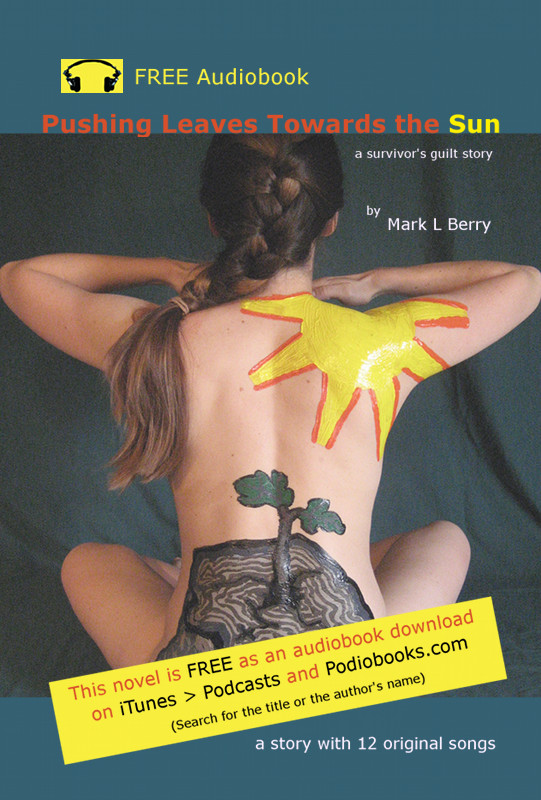 Click here for the free Audiobook page for this novel – available at Podiobooks.com and iTunes.
You can listen to the first five chapters here: Listen to my novel
Promo Video by Brian Jessip
Music by Kim Smith
When Oso gets yanked off his motorcycle and killed by a closed parking lot chain, Billy feels guilty for having taught him to hop curbs and shortcut traffic lights. Billy's survivor's guilt drags him down a spiral of excessive alcohol, reckless driving, one-night stands, and body painting. He's now all too aware that life is short—play hard.
Meanwhile, Oso's former girlfriend Lindy pours her grief into her new folk-rock album as she struggles with whether she can ever let herself love again. Can she turn this personal tragedy into something meaningful through her music?
Pushing Leaves Towards the Sun explores survivor's guilt and grief through reckless adventure, a dozen original songs, and fiction. When you've lost someone you love, there are no easy answers.
This novel is intended for adults. It includes some graphic language, sexual situations, and questionable behavior. Recovery from intense loss is a rough road—100 miles-per-hour on two wheels with no regard for oncoming traffic, as an example.
Listen to this novel's 12 songs while you're reading. They're available below, sorted in chronological order including the chapter in which each appears (except the title track has been moved to the top). As a taste, here's a seven-minute song montage of all twelve songs:
Pushing Leaves Towards the Sun – 12-song Montage 7:26

This is a story that you don't just read, you experience it through music.
TITLE SONG
Pushing Leaves Towards the Sun (Title Song) – from Chapter 32
(Song #10)
– Performed by Adam Hill and Valerie Cox
Lyrics & mp3 – plus Artist links /
SONGS IN ORDER OF APPEARANCE
One Down and Four Up – from Chapter 4
(Song #1)
– Performed by Kim Smith, Dave Morgan, Bill Johnson, & Tom Horn
Lyrics & mp3 – plus Artist links / VIDEO
Can't Say Goodbye (Ode to Oso) – from Chapter 7
(Song #2)
– Performed by Deanna Williams & Don 'Lefty' Williams
Lyrics & mp3 – plus Artist links /
If I'm Only Dreaming – from Chapter 11
(Song #3)
– Performed by Steve Schafer, Don 'Lefty' Williams, & Cleveland Brown
Lyrics & mp3 – plus Artist links /
One Day – from Chapter 17
(Song #4)
– Performed by Shane Clary, Don 'Lefty' Williams, Cleveland Brown, & Jeff Moseley
Lyrics & mp3 – plus Artist links /
Screwed at the Drive-thru – from Chapter 17
(Song #5)
– Performed by Don 'Lefty' Williams & Deanna Williams
Lyrics & mp3 – plus Artist links / VIDEO
Man-Made Roadblocks (Spy's Surprise) – from Chapter 19
(Song #6)
– Performed by Cleveland Brown & Mark D
Lyrics & mp3 – plus Artist links /
Organized Anger (Drum Solo) – from Chapter 23
(Bonus)
– Performed by Brian "The Kid" Hilgert
mp3 – plus Artist links / VIDEO
Hey Young Lady (Billy's Theme) – from Chapter 23
(Song #7)
– Performed by T.C. Elliott
Lyrics & mp3 – plus Artist links / VIDEO
From a Long Way Away (Lindy's Theme) – from Chapter 29
(Song #8)
– Performed by Kim Smith, J Starck, Bill Johnson, & Dave Morgan
Lyrics & mp3 – plus Artist links /

Just Another – from Chapter 31
(Song #9)
– Performed by Deborah Linden and Mal
Lyrics & mp3 – plus Artist links /


Pushing Leaves Towards the Sun (Title Song) – from Chapter 32(Song #10)
– Performed by Adam Hill and Valerie Cox
Lyrics & mp3 – plus Artist links /

The Family Tree (Scuba's Song) – from Chapter 34(Song #11)
– Performed by Deanna Williams and Don 'Lefty' Williams
Written by John 'Scuba' Linneman in St. Louis, MO
Lyrics & mp3 – plus Artist links /

Cats – from Chapter 34 (Song #12)
– Performed by Deanna Williams, Cleveland Brown, Don 'Lefty' Williams, John Krakowski
Lyrics & mp3 – plus Artist links /
73,000 words – 231 pages
Kindle e-reader version: Buy it here on Amazon.com
Audiobook version: Click here
Feel free to email me with your comments: mark@marklberry.com
Additional songs used in the audiobook version of this novel for intro, outro, and background music with the musician's permission:
10 Round Click
Words by Amanda Feuerberg
Music by The Siren
Performed by The Siren
Lyrics ans MP3 – plus Artist links /

Refugee
Words by Amanda Feuerberg
Music by The Siren
Performed by The Siren
Lyrics ans MP3 – plus Artist links /



During Pushing Leaves Towards the Sun and Street Justice Lindy (protagonist) composed four music albums: Slices of NightLife, Studying Psychology–Mostly as a Patient, The Fallout Shelter, and Street Justice. The songs are listed how they appeared on those albums, along with Bill's cover body n'art, here: Lindy's Albums
Cheers! Mark L Berry