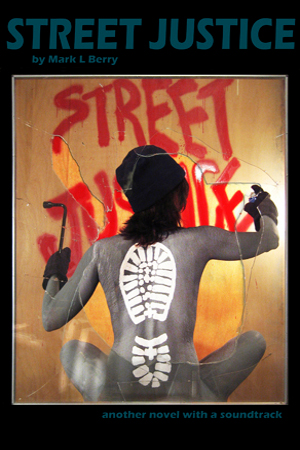 Street Justice
Billy and Lindy are back from Pushing Leaves Towards the Sun and life two years later has a way of developing 12 more original songs.
To distract Billy from his deceased best friend Oso's birthday, Dog takes Billy snowboarding. When Billy's Jeep breaks down up near the Catskill Mountains, he's forced to get towed to a local service station—that rips him off on the repair. Angry, Billy writes a revenge song about trashing the shop—and after performing it twice on stage, someone actually does it. Is this a case of life imitating art through a rabid fan? Billy is Detective Hollander's number one suspect as Billy writes more angry songs and feels the power of controlling someone's actions through his lyrics.
If you've read my first novel Pushing Leaves Towards the Sun, or even the first 3 Chapters, then you've seen that my protagonist Lindy is a song writer and her lyrics are integral to her emotional recovery after the death of her boyfriend Oso. This is where the music from the novel is layed out as three music albums as she would have produced them within the story. The songwriting continues with Scuba's contribution and then Lindy's 4th music album Street Justice (as Lindy continues to develop her career in my second novel). Here you can read the lyrics as well as listen to the songs as they are produced by real music artists.
TITLE SONG
SONGS IN ORDER OF APPEARANCE