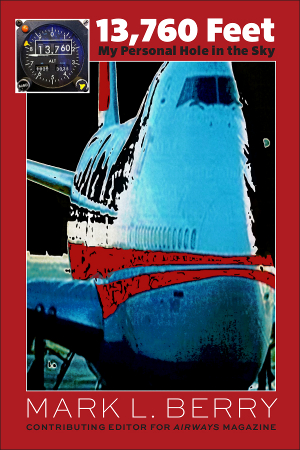 13,760 Feet–My Personal Hole in the Sky
– my fiancee's fatal flight that exploded offshore Long Island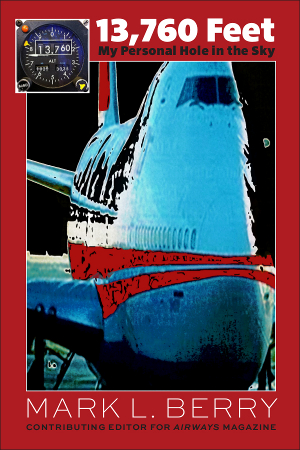 – a memoir in stories and 41 songs
Read or listen to Chapter 1 as it appears in Airways magazine
(August 2013 issue):
http://marklberry.com/2013/07/03/8132/
Excerpts from 13,760 Feet have appeared in Airways magazine (I'm a contributing editor), and also AOPA Flight Training, Connecticut Newspapers, Epiphany, ERAU EaglesNEST, So…Stories of Life, The Stoneslide Corrective, The Story Shack, TARPA Topics, Under the Sun, and Write This. I have refined my prose at Fairfield University's creative writing MFA program.
5-Minute Promo Video
Music by Simon Ashby
Praise for 13,760 Feet… (Click here for blurbs)
Here's my Memoir Photo Page (Click for pics)
Fourteen years before Captain Sullenberger safely landed on the Hudson River saving every one of his passengers and crew, I got a call to turn on the TV. TWA Flight 800 went down—my airline with my fiancée Susanne, a financial manager on a business trip, seated in row 3. I imagined I was suddenly onboard that 747 with her while crewmember friends of mine were assessing emergency exits, opening doors above the waterline, and ordering passengers outside and into life rafts with strong commands, "Open seatbelts, come this way!"
At the time I was a TWA 767 first officer. I knew Susanne was in good hands, but none of this was happening on TV like I was expecting. I continued imagining her taking the whole emergency in stride, but expressing her frustration about the sudden change in the outcome of her flight. She was a strong swimmer and loved the water, but very much a clotheshorse, and getting her business outfit dunked in salt water would tick her off. For a stunning Scandinavian who was very unashamed about nudity, she had more clothes than any five women I'd ever met—combined. I was puzzled that I didn't see the evacuation procedures unfolding on the news like they were playing-out in my head. Just to see her blue and green outfit with her extremely blonde hair moving into a raft or a rescue boat from a helicopter camera angle would have settled my tiniest doubt that I was keeping hostage in the deepest dungeon of my mind.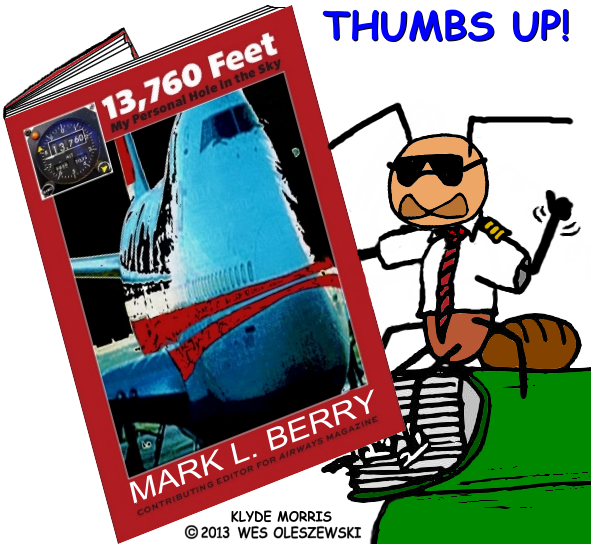 Rebuilding my life means continuing to move the heavy metal even though I've seen what happens when all safety fails. 13,760 Feet – Living with TWA Flight 800 is an insider's view of what it takes to make it in the major airlines, as well as climbing back into the cockpit after the ultimate loss—my fiancée on TWA Flight 800.
I've been in commercial cockpits over 25 years: picking through lines of thunderstorms and shedding accumulated aircraft icing; floating a flight attendant in zero g-force maneuvers on an otherwise empty airplane, only to get caught by my Chief Pilot because the lavatory was re-painted blue with toilet water; and wearing my uniform at the funerals of my family, co-workers, roommates, and friends who have paid for safer skies with their blood. My 124,000-word memoir chronicles what has made me the MD80 captain I am today.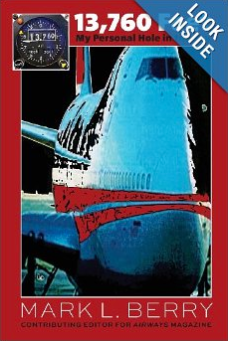 Order this novel as a 6×9 Paperback on Amazon.com

– 348 pages
– 6″ x 9″
– Paperback
– $18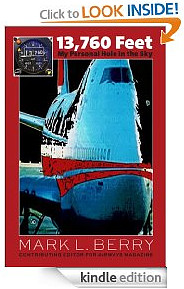 Order this novel as a Kindle e-book on Amazon.com

– Kindle
– $5.98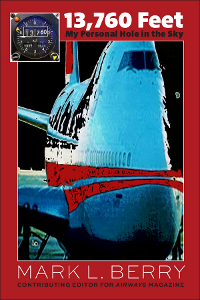 Now taking orders for signed copies of the 6×9 paperback.
Please note that some delays may occur by selecting this method to purchase a book as the author (me) has to handle the sale and shipment directly. The upside is that the book will be signed. The downside is that you will have a longer wait to receive your copy than ordering through Amazon or another retailer.
– 348 pages
– 6″ x 9″
– Paperback
– $18 + shipping (and tax within Missouri)